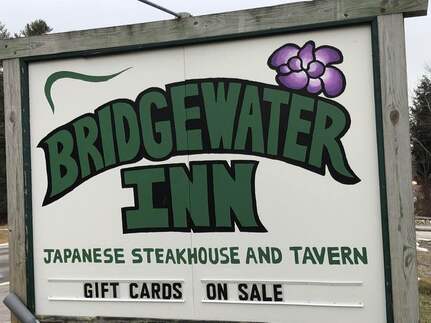 Bridgewater Inn
367 Mayhew Turnpike Bridgewater NH 03222
(603) 744-3518

We now have a mobil phone website by 'goMobi'!
m.bridgewater-inn.com Much easier to read & easy to use!
GPS HINTS
(Choose the Bristol/03222 address)
(from I-93N take exit 23)
Great Places To Visit Listed Below
Hiking Trails, Nature Walks, State Beach, Snowmobiling,
Ice Skating, Natural Sites
and so much more!

Places to Visit while you stay with us.
​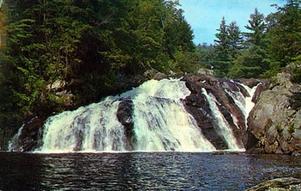 ​PROFILE FALLS
Profile Falls Road, Bristol NH 03222
A short easy walk leads to an impressive waterfall that feeds a large murky pool at it's base. There are other things to do there such as hiking and fishing (there is a wide shallow river but no lake). I also noticed a few picnic tables in an area separate from the falls, but still on the banks of the river. Tips... Bring water shoes to protect your feet. We found a fishing hook in the swimming area. The rocks are also slippery. Bring an inflatable tube. Many people brought tubes to float around in. It looked pretty relaxing and probably much easier to explore the giant swimming hole. Leave the beach blanket at home. There is no beach. We stopped here after Sculptured Rocks and Polar Caves. ((Visiting Guest))
​

---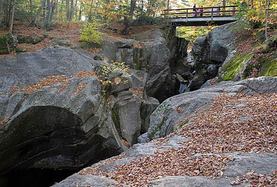 SCULPTURED ROCKS
​AREA251 Sculptured Rocks Rd
Groton, NH 03241
​Phone:
603-227-8745
Sculptured Rocks Natural Area, which spans 272 acres, is a unique example of nature's powerful yet delicate artistry. The Cockermouth River carved a narrow canyon in bedrock on its way to Newfound Lake, beginning as the last ice age drew to a close. Nature used grains of sand suspended in the current to carve the walls of the canyon into curious shapes and create potholes in the bedrock.
---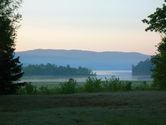 Audubon: Located on the beautiful northern shore of Newfound Lake, the Newfound Audubon Center is comprised of three wildlife sanctuaries, the Paradise Point Nature Center, Ash Cottage at Hebron Marsh Sanctuary and the Bear Mountain Sanctuary. During the summer months, the Nature Center offers many programs for all ages, several interactive exhibits, live animal displays, and canoe and kayak rentals. With sanctuary trails open all year, there is always something to do.
---
---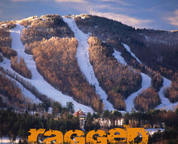 Ragged Mountain Ski Resort
Vertical Drop: 1,250 ft.
Total Acreage (trail and glade): 220
Snowmaking Coverage: 85%
Number of Trails: 50 (30% Novice, 40% Intermediate, 30% Expert) Lifts: 5 (One high-speed summit six-pack express, two triples, one double, one surface lift) Terrain Park: 3 (Wild Side, Wild Woods, & Wild Ride, plus new Learn to Slide Park)
​

---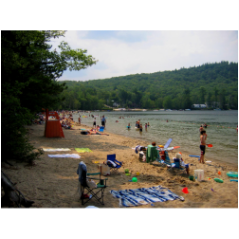 Wellington State Park boasts the largest freshwater swimming beach in the New Hampshire State Park system. Hiking trails and picnic areas along the shore afford views of one of the deepest and clearest lakes in the state. The park maintains volleyball and horseshoe courts. The Snack Bar offers a variety of snacks, ice cream, cold drinks, beach and picnic items, and souvenirs. Within the park, the peninsula nature trail features picnic areas, designated fishing areas, plant identification markers, and spectacular views of Newfound Lake and Cliff and Belle Islands. A well-marked hiking trail leads from the park and provides hikers access to Goose Pond, the Sugarloafs, Bear Mountain, Welton Falls, and Mt.Cardigan. A developed boat launch operated by N.H. Fish & Game adjoins the park, providing boaters free year-round access to Newfound Lake. Boat lanes along the beach allow boater access to the park for the regular admission price.
---
https://www.nhstateparks.org/visit/state-parks/cardigan-state-park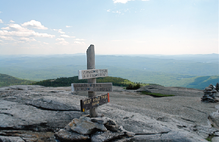 Cardigan Mountain State Park spans 5,655 acres and is an excellent area for hiking. A mountain road leads to trails on the west slope of Mount Cardigan as well as a trail to the summit. Mount Cardigan's 3,121-foot treeless granite summit affords outstanding views of west central New Hampshire, with a panorama that includes Mount Monadnock and the White Mountains, Camel's Hump in Vermont, and Pleasant Mountain in Maine. Excerpt from New Hampshire State Parks' blog: "My day at Mount Cardigan began at the West Ridge trail-head parking lot. An overhead shelter with picnic tables and nearby restrooms marks the entrance of the West Ridge Trail. Climbing 1,200 vertical feet in one and a half miles, the West Ridge Trail is the most direct route to the summit. Making use of log staircases and wooden bridges the trail snakes up through a classic northern hardwood forest made up of a mix of sugar maple, American beech, and yellow birch trees."
​

---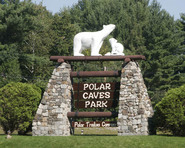 The Polar Caves were formed about fifty thousand years ago as the third continental glacier descended over New Hampshire's White Mountains. When the ice retreated, it left behind an amazing series of caves and passageways for visitors to explore. Self-guided tours take you to the rock garden and nature trails and through the caves.
---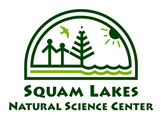 Squam Lakes Natural Science Center
The mission of Squam Lakes Natural Science Center (SLNSC) is to advance understanding of ecology by exploring New Hampshire's
natural world. Through spectacular live animal exhibits, natural science education programs, and lake cruises, Squam Lakes Natural Science Center has educated and enlightened visitors for over forty years about our natural world. Squam Lakes Natural Science Center is located on Route 113 in Holderness, exit 24 off I-93


---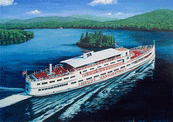 Mount Washington Cruises offers Scenic Daytime and Sunset Dinner Dance Cruises on Lake Winnipesaukee, NH from late May
through October. The M/S Mount Washington visits 5 ports on Lake Winnipesaukee and takes on passengers in Wolfeboro, Meredith, Center Harbor and Alton Bay on alternating days of the week with daily cruises from Weirs Beach. Sunday Champagne Brunch Cruises from Weirs Beach and Alton Bay every Sunday. The US Mailboat, Sophie C. offers Island Cruises while delivering mail to the islands on Lake Winnipesaukee, the largest and most beautiful lake in New Hampshire. It is located at the foothills of the White Mountains in New Hampshire's beautiful Lakes Region. Lake Winnipesaukee is spring fed and surrounded by mountain ranges, contains more than 240 habitable islands and covers 44000 acres of crystal clear water.
​
---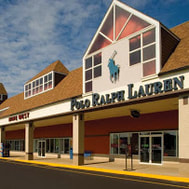 Tanger Outlets, located in Tilton NH
120 Laconia Road, Tilton, NH 03276
(off exit 20 on I-93)
STORE HOURS
Regular Hours
January 02-December 31
Monday - Saturday 10:00am-9:00pm
Sunday 10:00am-6:00pm
Extended Holiday Hours
Monday - Saturday 9:00am-9:00pm
Sunday 9:00am-6:00pm
---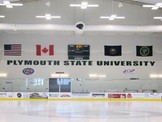 Plymouth State Public Skating
Escape the summer heat in our cool arena. Public sessions open the ice up for easy-going recreation for all ages.
​
General Public Admission and Rental Rates:
Regular Public Session Admission $6.00
Skate Rental $4.00
PSU Students: Free admission for all public sessions with valid PSU ID. This does not include skate rental of $4.00. Not valid on Friday Night House Party.
Senior Citizen Rate $5.00 admission only without skate rental, $7.00 admission includes skate rental
Group Rate (minimum 10 people) $5.00 admission only without rental skates, $7.00 admission includes skate rental
---








​Learn about our home town. Bridgewater is a small community located in the Lakes Region of central New Hampshire. Its residents and property owners value the rural qualities of the town and the region. They like the small town atmosphere. It is safe and friendly, and is a good place to raise a family or to retire. They value the forests, pastoral open spaces, and water bodies as locations for outdoor recreation, and for the scenic beauty they provide.
---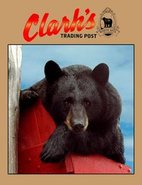 Clark's Trading Post offer visitors the best in family entertainment and good honest fun. You'll find it all here - an excursion on The White Mountain Central Railroad through our authentic covered bridge and into Wolfman's territory. Browse museums filled with Americana, witness the extraordinary stunts of the Yandong Chinese Acrobatic Troupe and visit our many unique shops. Don't forget our featured attraction The Bear Show - a truly original experience. All this and more await you, at Clark's Trading Post - a White Mountain classic.
​

---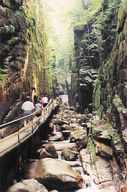 The Flume is a natural gorge extending 800 feet at the base of Mount Liberty. The walls of Conway granite rise to a height of 70 to 90 feet and are 12 to 20 feet apart. A trip into the Flume begins and ends at the Flume Visitor's Center. Guests can choose to walk through just the Gorge or do a two mile loop. The walk includes uphill walking and lots of stairs. The boardwalk allows you to look closely at the growth of flowers, ferns and mosses found here. Framed by a spectacular vista of Mount Liberty and Mount Flume, the Visitor Center houses the Flume ticket office, information center, cafeteria, gift shop, and the state park system's historic Concord Coach. A 20-minute movie showcasing beautiful Franconia Notch State Park is available for viewing.
---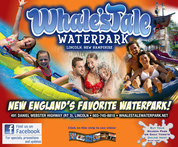 At the Whale's Tale Water Park, the whole family can play in the only wave pool in the White Mountains. Ride the big waves or relax in the gentle ones at the shallow end. No need to worry about sand or salt. A splashing good time awaits you at the Whale's Tale Water Park. Streak down the speed slides, twist through the flume slides, or splash down the 360 foot tube ride with clean, clear filtered water.
---